* * * * * *
COCO ROSSO
(Coconut Grove x Friendly Furiosa)
2010 video
Colt born 5/7/07 is a tall, bright chestnut with phenomenal movement. He definitely has international jumper potential.
Sire: Coconut Grove is a world class Thoroughbred Grand Prix jumper stallion. He is descended from the notable Bold Ruler/Damascus cross, a line that is proven to consistently produce jumpers. He is the first TB stallion in history to be approved and granted improvement sire status by the American Holsteiner Horse Association and the American Hanoverian Society; selected for Hanoverian Jumper Breeding Program. He has 100% approval status - 8 U.S., 1 Canadian and 7 European registries.
Dam: Friendly Furiosa is TWICE line bred, in the first two generations, to the immortal Inschallah and the legendary Furioso II. Both of these sires together have had over 15 on the Olympic team in both jumping and dressage. Friendly, her St. Pr. dam, and her sire are ALL 3/4 blood siblings to the Olympic stallion Heisman. Friendly Furiosa is very easy to ride and has good gaits with a great uphill canter for upper level dressage.

Price range C
2008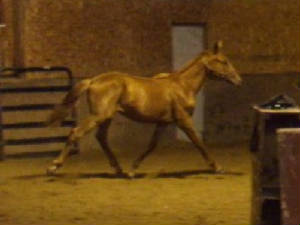 from video by Amanda L Grazer
2008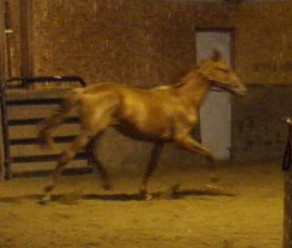 from video by Amanda L Grazer
August 2008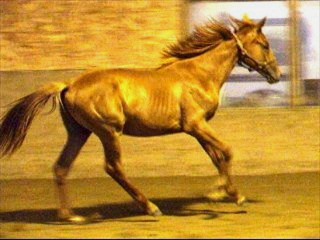 from video by Amanda L Grazer
Cocco Rosso July 2007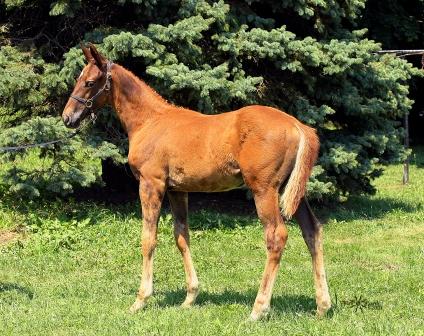 www.fireandearthphoto.com
Click here to play video of Coco Rosso.
* * * * * *
SIR FLEMMINGH
(Sir Donnerhall x Shirly/Flemmingh)
2010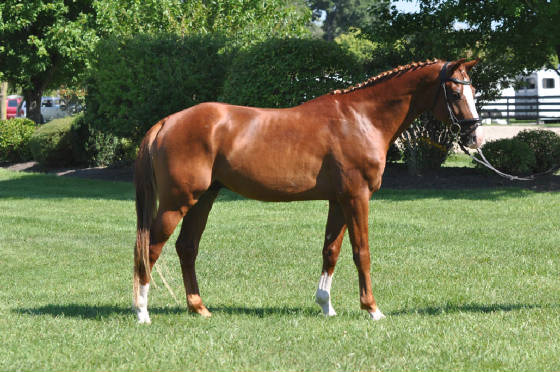 Karen Lietz Photography
Certified Breeding License from the ISR - Oldenburg Registry N.A.
born 5/15/07, ISR/Oldenburg premium colt, Champion colt of his inspection with an 8.3. At his only show in 2007 (Silverwood, 9/22), he won Colts of 2007 with a score of 79.6%. A winner at Devon, his only show of 2008, he won Yearling Colts and Geldings with an 80.8%, and placed 3rd in the Young Horse Championship. He also received the Yearling Colt Born in the USA award.
Sire: Sir Donnerhall was the third highest placed young stallion at the 2003 Oldenburg Licensing in Vechta. He achieved the highest overall results of 8.95. For dressage he got a score of 9.26, for show jumping he got an impressive 8.73. He was deserved 2005 Oldenburg County Champion in Rastede and won his 70 day test in Adelheidsdorf with a dressage index of 163 points – a score never achieved by a stallion before. His jumping ability was well demonstrated by his winning this category as well with a total index of 151 points. In 2006, he was the 5yo. Riding Horse Champion. Sir Donnerhall has set new records with his very first foal crop of 2005, 3 of the 10 best colts at the German Foal Championships were by Sir Donnerhall. His foals were present at all auctions in Germany and were sold for top prices. He passes on his championship quality to his foals. He sired the champion filly and the champion colt at the South German Breeding Association foal championships and the champion filly at the German Foal Championships in Lienen. Sir Donnerhall's sire, Sandro Hit, is proving to be an extremely successful stallion, both in dressage competition and as a sire of numerous top foals. In 1999 he became Six-Year-Old-Dressage-Horse-World-Champion, and winner at the German Federal Championships in Warendorf. As many as 10 licensed sons came out of his first foal crop. In 2001, 5 of the TOP 10 foals in Germany were by Sandro Hit.
Dam: Shirly is a 1999 imported Dutch mare, 16.2 hands, Premium ISR/Oldenburg with 113 points and 2nd place nationally in 2003. Her sire, Flemmingh, is one of the greatest producers of dressage horses in the world, siring many approved sons, selection champions, successful sport horses, Ster and Keur mares, champion foals and dressage performance horses. Shirly's foals are also registerable with NA/WPN. Her 2004 filly was Champion Filly, Reserve Champion Young Horse, and High score in Waterloo, MI. Her 2006 colt by Kevekko was Premium ISR/Oldenburg colt and high score of his inspection site with a score of 8.3.

Price range D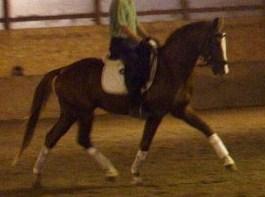 photo by Amanda L Graser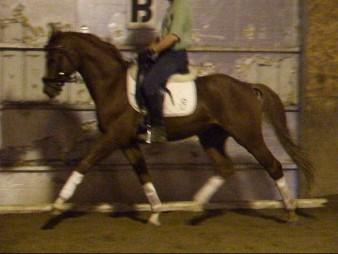 photo by Amanda L Graser
July 2008
from video by Amanda L Grazer
July 2008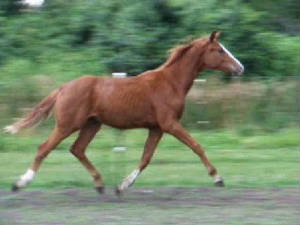 from video by Amanda L Grazer
Sir Flemmingh at three months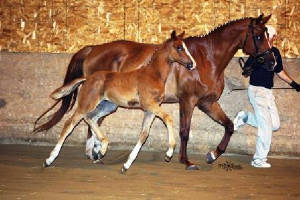 www.fireandearthphoto.com
Sir Flemmingh at three months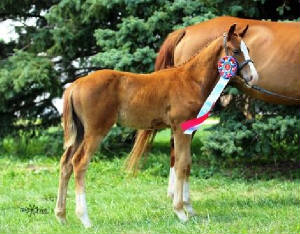 www.fireandearthphoto.com