So proud of our horses and riders this past weekend at the Fields & Fences Dressage Show!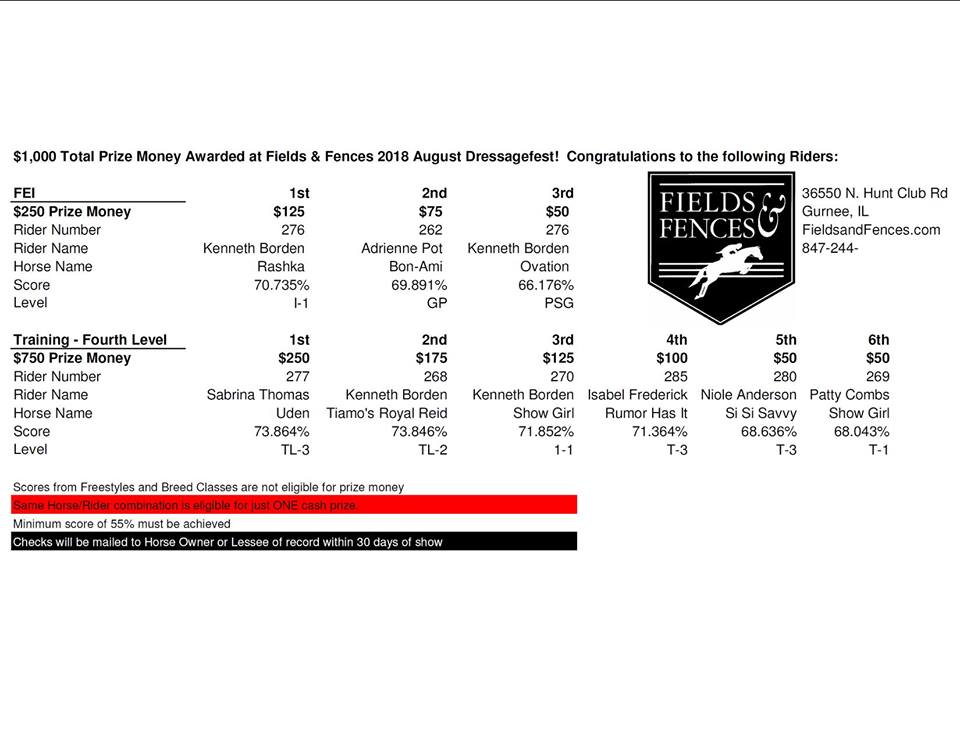 Special Incentive to Purchase One of Our Exceptional Broodmares!
We are now offering a "Mares Incentive" for purchase at lower than list price if 10-25% of each foal they produce comes back to us. That way we are taking the risk with the new breeder/owners.
We still are only breeding a handful of our own quality mares this season, so we have over 20+ mares available to breed and even ride or show in some cases. For example, everyone wants a Hohenstein, like Her Highness, but with our Mare Incentive we can sell her and many others for less than their valued price with a percentage of the pending foals. It can be a "win-win" for everyone.
Belated Congratulations!

A very belated congratulations to Paige Schlicksup, breeder of the highest scoring foal ever in the U.S. for the ISR/Oldenburg registry (9 movement, 8.8 overall), a 2015 colt by Champion's Devito and out of the mare Opal, leased from Martin Kuhn and Kate Flemingh-Kuhn of Starwest Farm in New Berlin, IL. Opal is by our stallion Opus and has always produced premium foals. She is out of the TB mare Miss Nickel Annie, who is also dam to two approved stallions, one of which is Masterpiece, Ken's favorite horse ever!
Congratulations to Twin Oaks Farm on their Rashka colt out of Anastazia. Premium ISR/Oldenburg and site champion of his inspection!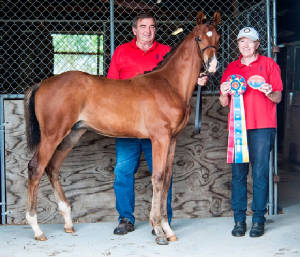 Newest licensed Stallion at Little Bit Farm!
Joining his half brother, O'Pierre (Opus/Del Piero), our stallion Rayco (R Cor Ray/Del Piero) has been awarded a breeding license by ISR/Oldenburg NA.
Congratulations to Robin Birk of Timber Ridge Farm on the licensing of her stallion O'Pierre by the ISR/Oldenburg!
O'Pierre is by Opus and out of a Del Piero mare. We wish them great success in their partnership for the future.
We love hearing from those who've bought LBF horses. This is from Tina Zehnder of Fairy Tail Farm:
"Princess is a [2009] Opus filly out of my mare, Chantilly. Ziva (as we call Tiamo's Furioso), I bought from Ken in December of 2010 as a weanling. I have really enjoyed showing them both. Princess ended this year 14th nationally for mature mare in hand with very limited showing. Ziva ended the year 10th for the three year old sport horse fillies and third (just .1 of a point off of reserve champion) in three year old material fillies. If I would have had my paper work completed correctly Ziva would have been Oldenburg horse of the year for both in hand and material. Needless to say I won't make that mistake again…. [I] love working with both of them."
Ziva in her 3 YO Materiale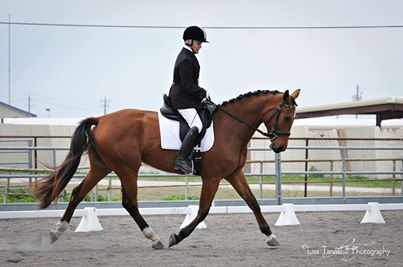 photo by Lisa Tannehill Photography
Princess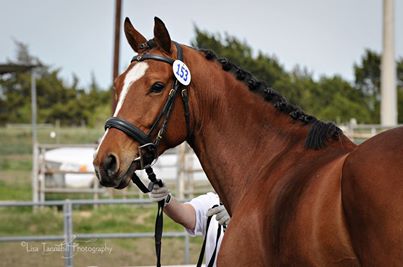 Rashka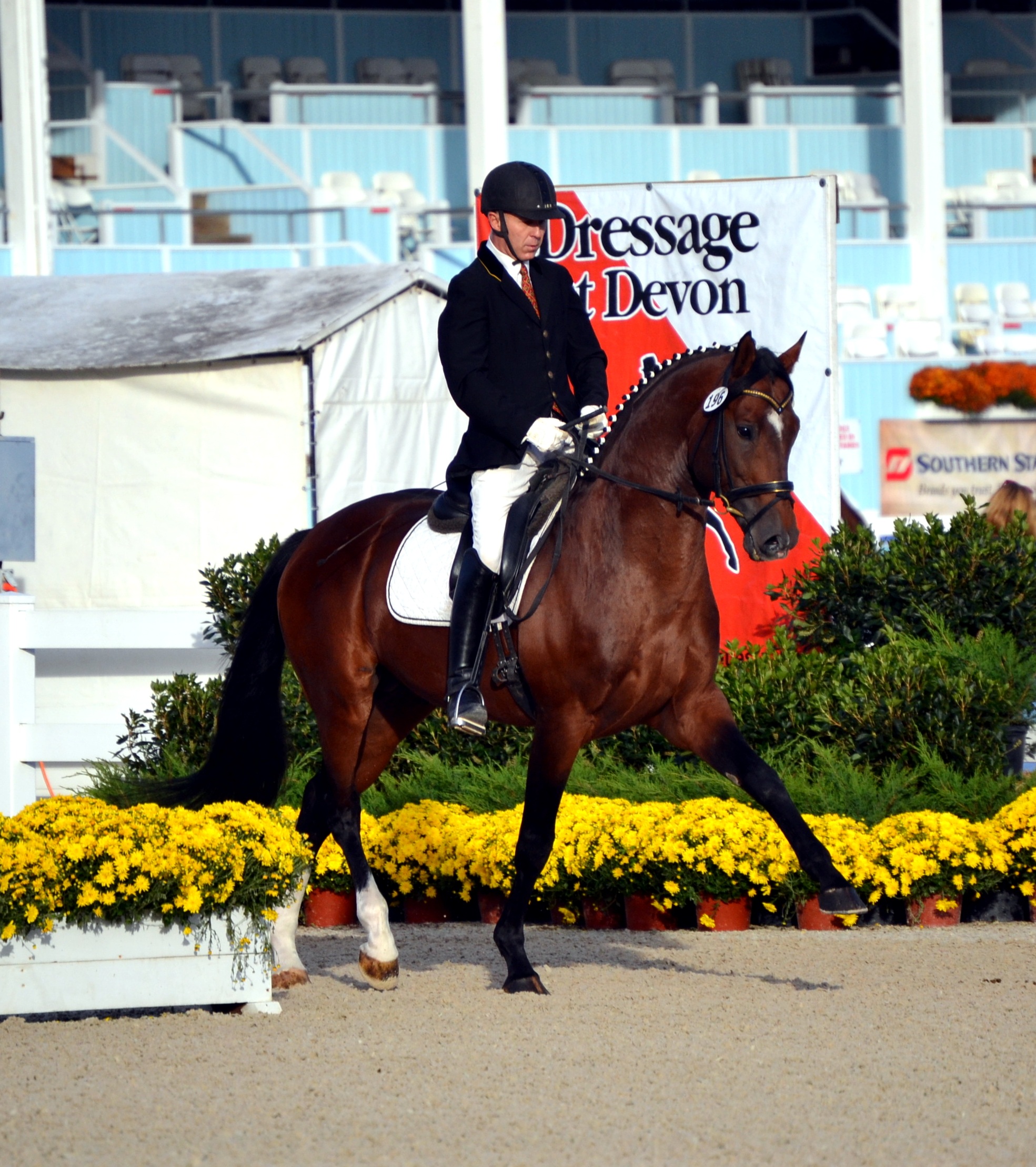 photo by Louise Beil
Happy Owner, Happy Us
Dianne Brown Pulles shared with us her journey with partner Secret Agent (00 Seven x Master's Gift/Master). She purchased "Spy" from us in 2011 as a 4-year old, and is rightfully proud of the team. "He is the love of my life and soul mate! I am an amateur rider and his trainer and we received the following this year: In the preliminary standings 43rd at First Level AA First Level, 1st in Swedish Warmblood Assn AA First Level, Waterloo Series End Reserve Champion First Level and I am sure that I will win an MDA year end award. Our national median was a 66.03% with me as the trainer."
Spy and Dianne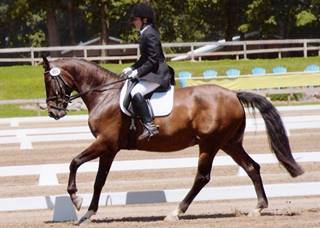 Waterloo Series End Reserve Champion First Level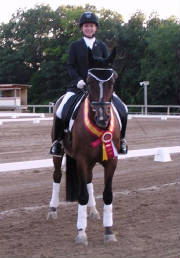 Another Happy Owner of a Rashka Foal
We love to hear from folks about their horses. Jennifer Grant bought Rajah, a Rashka/Ferro colt, born March 2012, from breeder. Jennifer writes,
"Spectacular does not even describe my Rashka baby! Brilliant, balanced, gorgeous & loving. Very hard not to spoil him. He is now 15 months and a jaw dropper. He truly "has it all"!! And from what I have been told has his daddies desire to please & work for you. Rajah loves all his toys, is very brave and curious. He enjoys his pool & barrel too. We expect him to top out over 17 hands. I placed boots, cavesson & surcingle on him this past weekend with no fuss at all, he is all about pleasing me & doing his job. He can be a handful but is the sweetest baby ever."
Rajah 4 months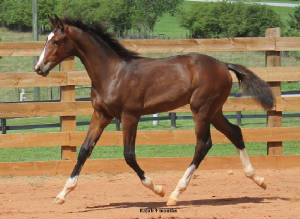 Rajah 15 months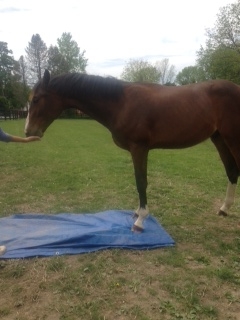 Another Wonderful Opus Mare!
From Diana Harris who purchased a 2008 Opus mare (out of Syprys by Frohwind – bred by Lonnie Petersen). "She has a phenomenal disposition and perfect form on the flat and over fences. She won 5th in the hunter derby at her first show, and swept up the 3'3" hunter class…. She will be undergoing her ONA mare book trials this September in Houston, and her ISHA Mare Performance test either this or next year. She is a truly amazing mare and will make it all the way to the top in no time! The first pic is us jumping 3'6" (or if you measure from her feet instead of the pole 4'5" haha), and the second is her four year old conformation picture."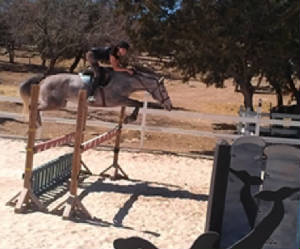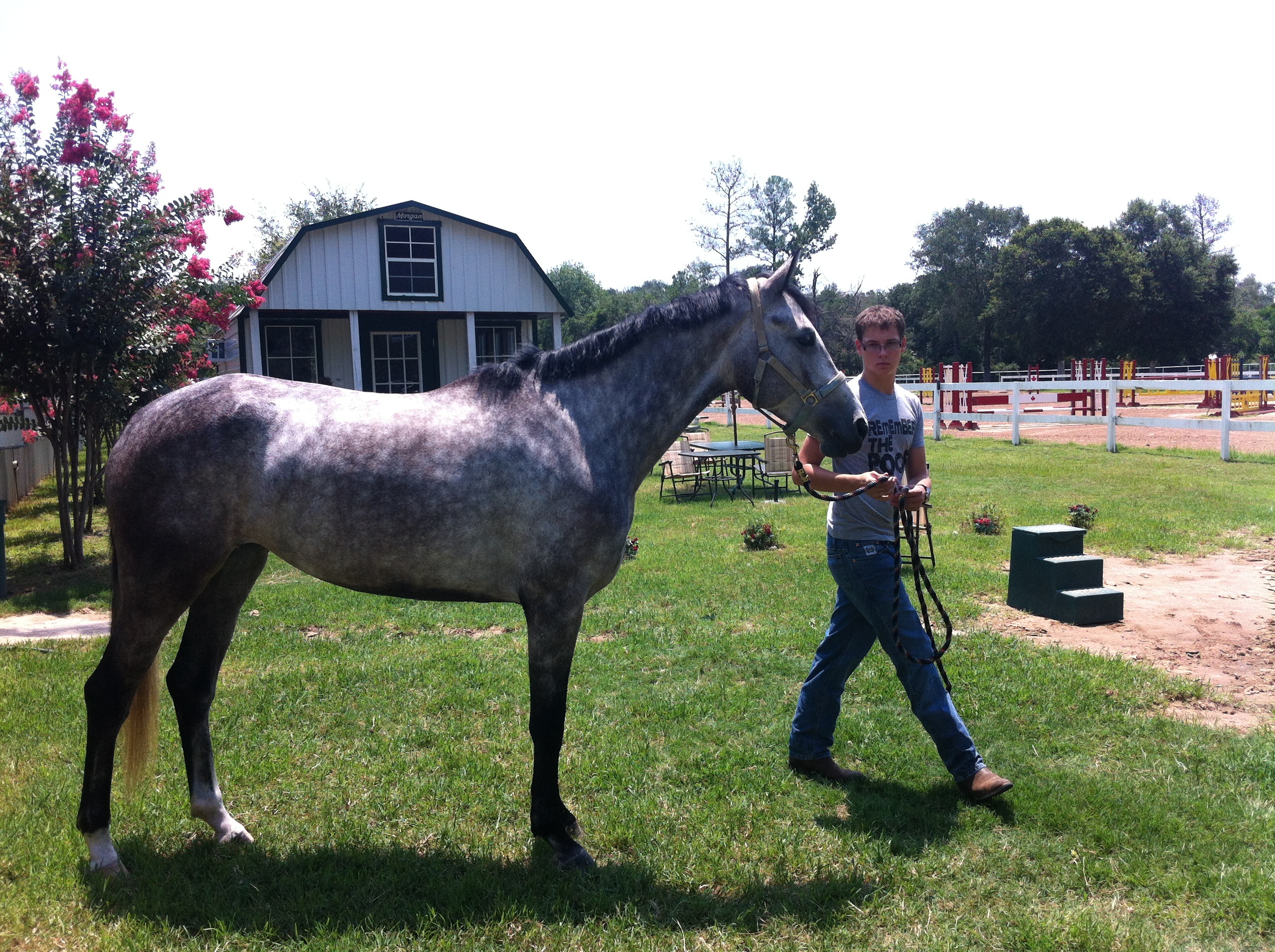 "He thought he had no limits..."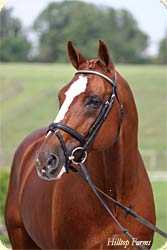 courtesy of Hilltop Farms
We are deeply saddened to report the sudden and unexpected death of Grand Prix stallion Reuters Tiamo Trocadero on Friday, February 11, 2011. The 24-year-old Hanoverian stallion was found within an hour of being turned out for the second time that day. He appeared to have gone quickly and quietly, dying of natural causes.

Tiamo touched many lives in his long and successful career. He has been winning at Grand Prix since he was eight years old, competing in Europe's top CDIs and scoring over 70% at Aachen, Hichstead, Arnheim, and Munich. He qualified for the 2000 Sydney Olympics, was an alternate for the British team, and subsequently took his American amateur owner, Karin Offield, to multiple USDF year-end awards at FEI levels. In 2010, at age 23, Tiamo continued to be sound and successful in the show ring with Ken. His Grand Prix Freestyle median score was over 70%.

Tiamo was playful and showed great joy for life; and when it was time to groom and tack up, he was happy to get to work. "He loved to work. He thought he had no limits," said Borden of his stallion.

Although his career as a stud has been relatively short (with one exception, his first foal crop arrived in 2008), it is clear that Tiamo passes on his elastic movement, his flashy chrome, and his brave, confident temperament. His legacy will live on in his sons and daughters, including Borden's "next stallion prospect," Tiamo's Royal Reid, who was bred by Karin Offield. Frozen semen will ensure that Tiamo Trocadero will continue to enrich the world of high-performance partners for years to come.