*************************************
OLIVER TWIST (Opus* x First Class Lady xx Castle Magic)
2004 ISR/Oldenburg, bay stallion. Oliver Twist is a great hunter prospect with incredible movement and temperment. In 2004, he won at his first show and was Reserve Champion Young Horse, qualifing for the Regional Championships.

Sire: Opus*** is 2006 USDF Leading Dressage Sire (he was 2nd Leading Dressage Sire in both 2004 and 2005), NA/WPN Leading Dressage Breeding Sire in both 2004 and 2005 USEF rankings, and 2005 Leading producer of ISR/Oldenburg Premium Mares and Horse of the Year winners. He is stamping his get with consistent type, conformation, awesome uphill gaits, and most importantly, incredible rideability. Opus foals have won Championships and almost all under saddle classes entered in both dressage and hunters! Opus is sire of ISR/Oldenburg approved stallion Ubilee*, Champion of the 2004 Stallion Performance Short Test.

Dam: First Class Lady is out of Castle Magic, a top hunter sire, whose offspring have won over $175,000 in International Hunter Futurity competition, Best Young Horse at Devon 5 times, and Championships at Harrisburg, Washington and the National Horse Show. First Class Lady also produced Golightly, by Graf Goetz*, one of the only 15 premium ISR/Oldenburg mares in 2005.

$30,000 Standing at stud until sold.
click here to download Oliver Twist's 2008 stallion service contract
Oliver Twist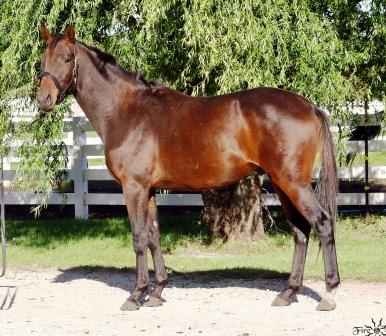 www.fireandearthphoto.com
Oliver Twist
Opus*
Idocus
Equador
Voltaire
Zeliki
Eretha
Zonneglans
Viretha
Elite J Adelian***
Admiraal Ferdinand
Ferdinand
Waleska
Indelian
Relian
Indelero
First Class Lady
Castle Magic
Clavier
Sirte
Galant Wind
Privilege
Court Affair
Weepers Joy
Class Price
Joe Price
Noor
Countess Molly
Declasse
El Hawa
Red Knees
Pedigree generated by PedigreeQuery.com
*******************************************************

SOLD

PERON'S FINI: (Olympic Peron x Elite Goliad ***)

Limited breedings available through Little Bit Farm, price upon request, no LFG.

Peron's Fini is the only double registered stallion [(AHS) American Hanoverian Society and American Trakehner Association] by the former Olympic Trakehner stallion Peron. Of all those inspected his year, the American Hanoverian Society judges gave Peron's Fini one of the only 9 gait scores in the US. He is a very well-broke stallion, easy to ride, with upper level dressage movement. He is very quiet and easy to handle. He is currently 16.1+.

Sire: Peron is the highest scoring stallion in US Olympic history and the highest scoring horse on our 1996 Bronze Medal winning U.S. Olympic Team.

Dam: Elite Goliad*** is an Elite Hanoverian who is also a niece to the '76 Dressage Olympic Bronze Medalist, Monaco, the only horse to receive 8 or above the entire Olympic year on his Piaffe and Passage. Elite Goliad herself has won at Dressage at Devon under saddle and placed 2nd in hand. She went on to produce another winner at DAD as well as four of the highest-scoring Premium foals in the US, all while showing successfully in hunters, dressage, and eventing.
Peron's Fini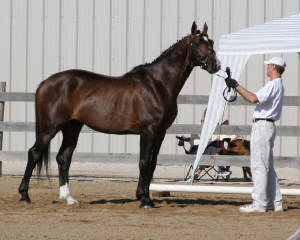 www.fireandearthphoto.com
*************************************
R COR RAY (Raymeister* x Condina by Cor de la Bryere)
(4/23/04) Premium ISR/Oldenburg, recommended a stallion prospect. R. Cor Ray has wonderful bloodlines, type, and movement.
Sire: Raymeister was the highest scoring stallion at the 2002 Stallion Performance Test, a three time winner at DAD, consistently scoring 9 gaits, 2005 USDF Leading Dressage Holsteiner with an average score of 78+%, 2006 USDF Horse of the Year, and sire of approved ISR/Oldenburg stallion Rashka, who has the highest score in the history of all US stallion testing, 164.86.
Dam: Condina, is out of the legendary Cor de la Bryere and is a full sibling to the approved Holsteiner stallion, Condino. She has produced an I.J.F. winner, all premium foals, and an approved stallion, Creighton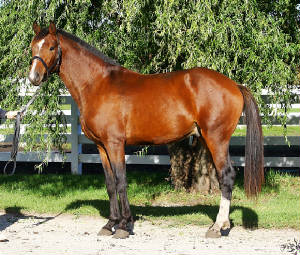 www.fireandearthphoto.com
*************************************
ROMI Z: (Olympic Robin Z – Spatlaisse by Elite Spartan)
6-21-03, Swedish stallion. Top Grand Prix jumper, World Championship and Olympic competitors on top and bottom. Romi Z scored Grade I (highest score) at his 2003 inspection, and the judges stated, "Keep this one a stallion!"

Sire: Robin Z is one of the best jumping sires in the world. His get have won medals in the European Championships, World Equestrian Games, and the Olympics. The success of his progeny is remarkable. Robin Z was classed as the number one stallion in the world in 1999 with 12 winning products in CSI and was one of the few stallions in the world to have two progeny in the showjumping finals at the Olympic Games in Sydney 2000. He is the 'classic' Zangersheide cross – by Ramiro and out of a mare by Almé, out of a mare by Gotthard. He combines the blood of the three stallions that made the Zangersheide Stud so famous. Those stallions put type and gaits and the temperament needed to Swedish mares. Robin Z's sire Ramiro was ranked as the #1 stallion in the world on the basis international winners from 1990-95, and his dam's sire, Almé is the #1sire of showjumping broodmares from 1990-96. Robin Z jumped Grand Prix at an international level with the Swedish team, and is also a winner in Grand Prix Dressage

Dam: Spatlaisse is a registered Westphalian mare, who is also approved premium SWANA, ISR/Oldenburg, and AHS. Her sire, Grand Prix Spartan, also produced Stakkato, Germany's #1 jumping sire. Her dam, Electrically, received approval with Westphalian, ISR/Oldenburg, and received an overall 8 with AHS plus 9 and 8 jumping scores during her performance test.

Standing at stud until sold. Price upon request.

click here to download Romi Z's 2008 stallion service contract
Romi Z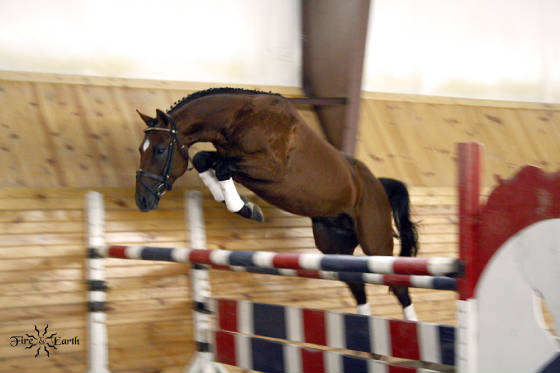 www.fireandearthphoto.com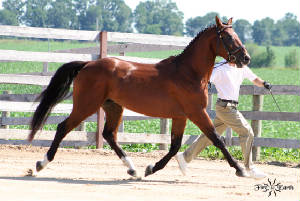 www.fireandearthphoto.com
Romi Z
Robin Z
Ramiro Z
Raimond
Ramzes
Infra
Valine
Cottage Son xx
Holle
Alpha Z
Alme
Ibrahim
Girondine
Gotin Z
Gotthard
Friesenmusik
Spatlaisse
Spartan
Servus
Sesam
St Pr St Dambucht
Gottilda
Gotthard
Steingilde
Electrically
Pedigree generated by PedigreeQuery.com
*************************************
WIN de GAUGUIN: (Windwalzer* x Gauliana de Gauguin/Gauguin de Lully)
7-23-02, dual registered stallion with both Oldenburg & ATA. He is one of the best bred dressage stallions in the US.
Sire: Windwalzer* was Olympic long-listed and earned multiple I-1 & I - 2 USDF Horse of the Year titles over all other horses in the US.
Dam: Gauliana de Gauguin is a16.3 hands, Swedish, Hanoverian, and Oldenburg approved mare who WON AT DEVON – LIKE HER DAM! In 2004, she was 4th of all premium mares in the Midwest. Her sire was Olympic Bronze Medalist and World Champion Gauguin de Lully. Her dam, Elite Goliad***, is also a niece to another Olympic Bronze Medalist, Monaco.
Standing at stud until sold. Price upon request.
click here to download Win de Gauguin's 2008 stallion service contract
Win de Gauguin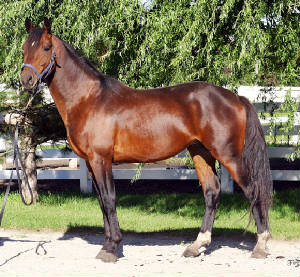 www.fireandearthphoto.com
Win de Gauguin
Windwalzer
Saxon
Flugwind
Tannenberg
Flugtaube III
Sadana
Condus
Samland II
Wonnedame
Virgil
Amagun
Vermaechtnis
Wunchtraum II
Gazal
Waldrose
Gauliana de Gauguin
Gauguin de Lully
Chagall
Utrillo
Efrodite
Gasparona
Gaspari
Singoalla
Elite Goliad***
Elite Gaspano
Gastronom
Gaspano
Abendzier
Abhang II
Wanderin
Pedigree generated by PedigreeQuery.com
Ken Borden Jr.

23963 S. Widows Rd Wilmington, IL 60481

(815) 476-2911