Scroll down to see Remember Me (Rashka/Flemmingh), Flip For It (Flipper D'Elle/Rashka/Contango/Robin Z), and UR a Star (Ubilee I/GP Raymeister)
Remember Me
(Rashka x Shirly)
Remember Me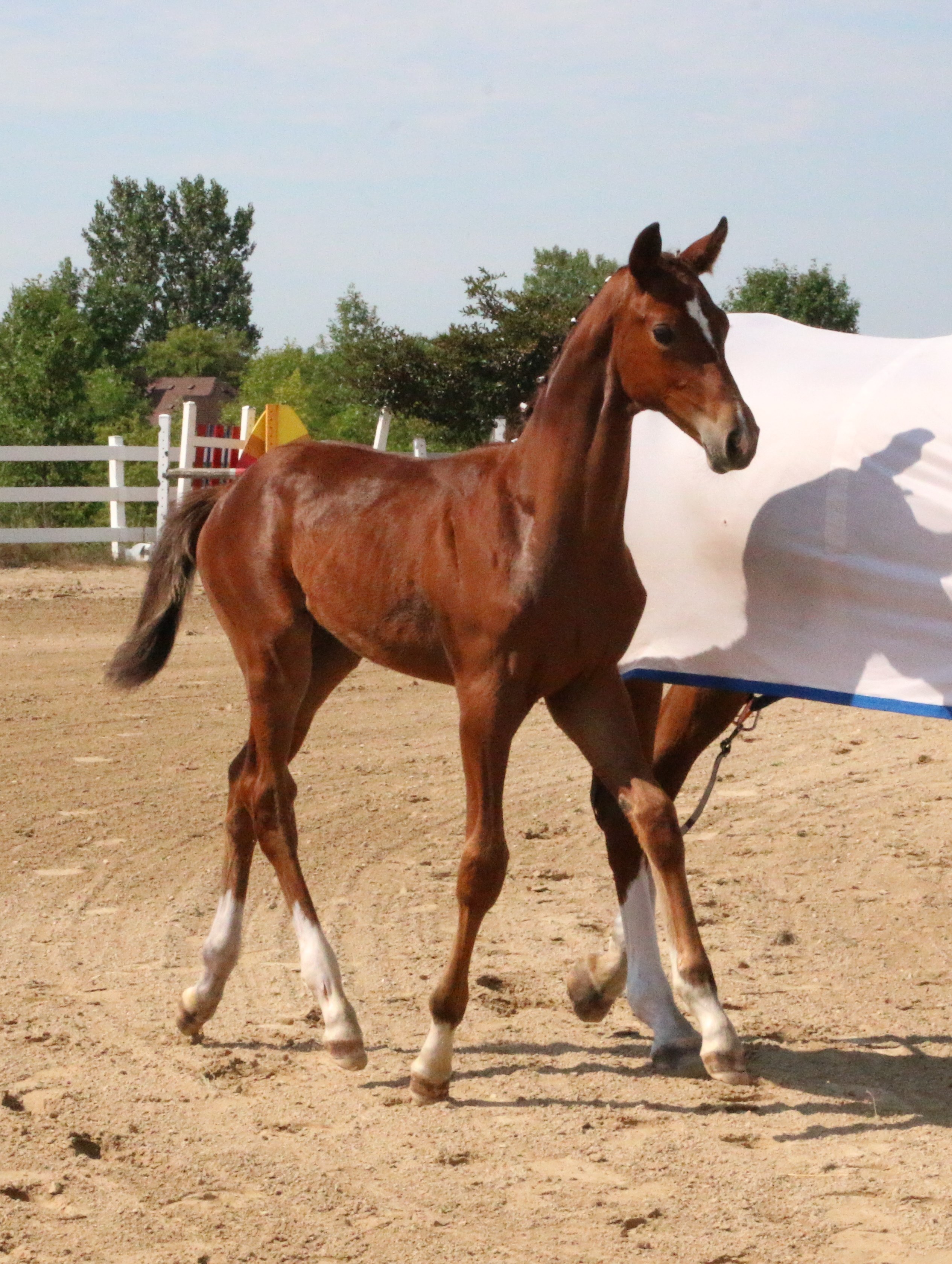 photo by Natalie Prentice
Born 5/30/16 the most perfect Rashka colt. Very tall and strong, he has a star, snip, and four white sox. A premium foal for ISR/Oldenburg, he was high score of his inspection site with 8.1 overall and 8.2 on movement..
Sire: At his stallion test Rashka had the highest score in all US testing history,164.86, w/ a perfect 10 on his canter from all judges. He is from four generations of USDF HOY winners, & is himself a winner of 6 USDF HOY Championships, 4 USDF HOY Reserve Championships, & 12 USDF All Breeds HOY Awards. Rashka's sire GP Raymeister was the highest scoring stallion at the 2002 Stallion Test, is a three-time DAD winner, & has won at Regional USDF in-hand & dressage championships. Ray consistently scores 9 gaits. Rashka's dam Tashka is a premium ISR/Oldenburg & AHHA approved mare by Opus. She is an 8-time HOY winner (4 USDF & 4 ISR/Oldenburg), a multiple regional championship winner, & a DAD Suitability winner.
Dam: Shirly is one of the best imported, KWPN, Flemmingh mares left in the world. Besides having Flemmingh blood Shirly has an equally impressive dam side with an Olympic grand sire and other Olympic blood numerous times over. On paper, it should easily be seen that Shirly is by far better bred than most of the Flemmingh approved-stallion sons, including Krack C and Lingh, to name only a few of the great Flemmingh sons. Shirly may be our best producer to date. Her Premium offspring include Kalander Boy - won USDF Horse of the Year, Regional Championships, and adult amateur awards for his current owner; Sir Flemmingh - an approved stallion, who produced only premium foals. Now gelded by his amateur owner, he has won USDF Horse of the Year Championship, Dressage at Devon, and a Reserve Regional AA Championship; My Fling - won numerous USDF awards with his owner; My Second Fling – in 2013, placed well at DAD with only a few weeks of being under saddle.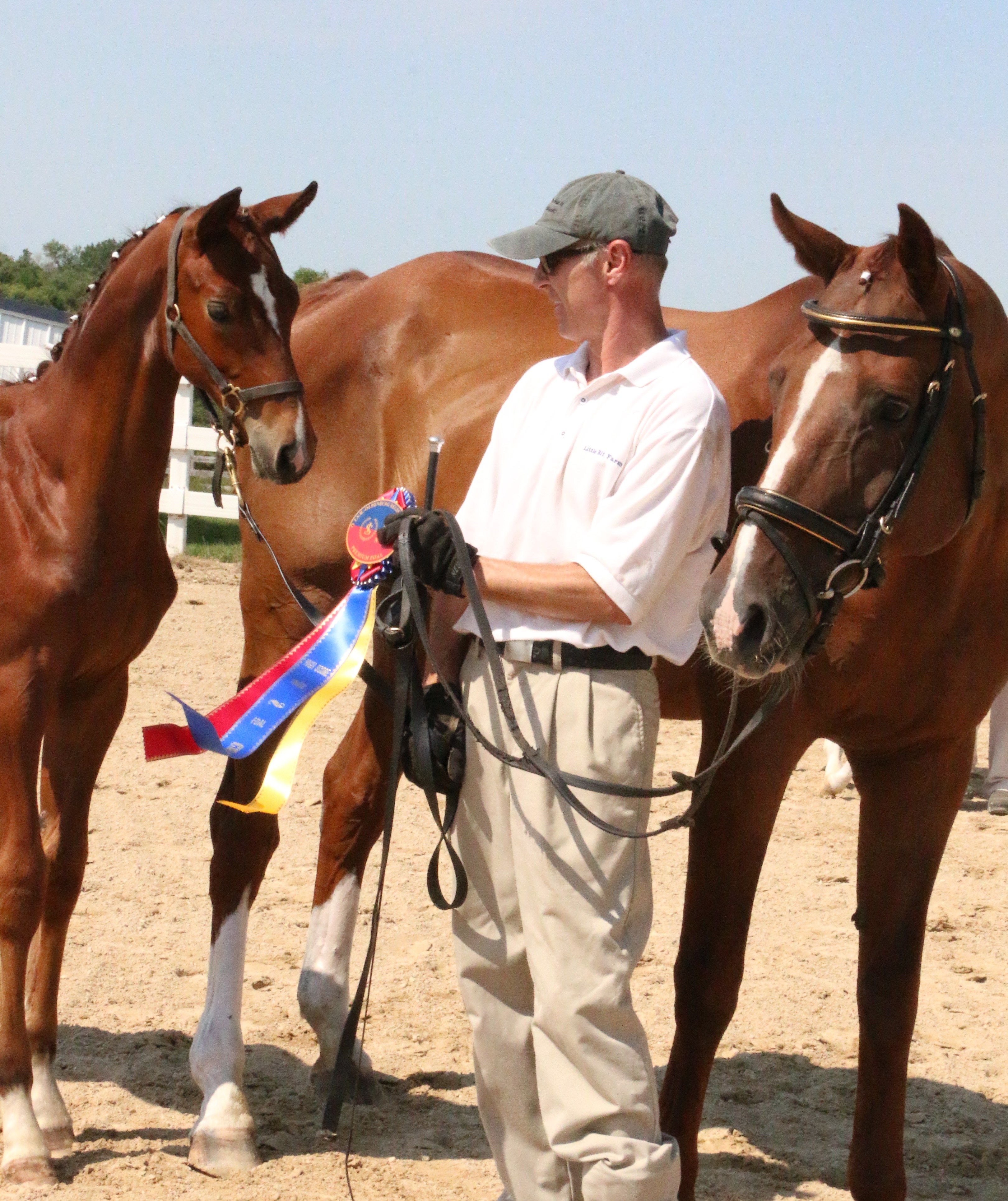 photo by Natalie Prentice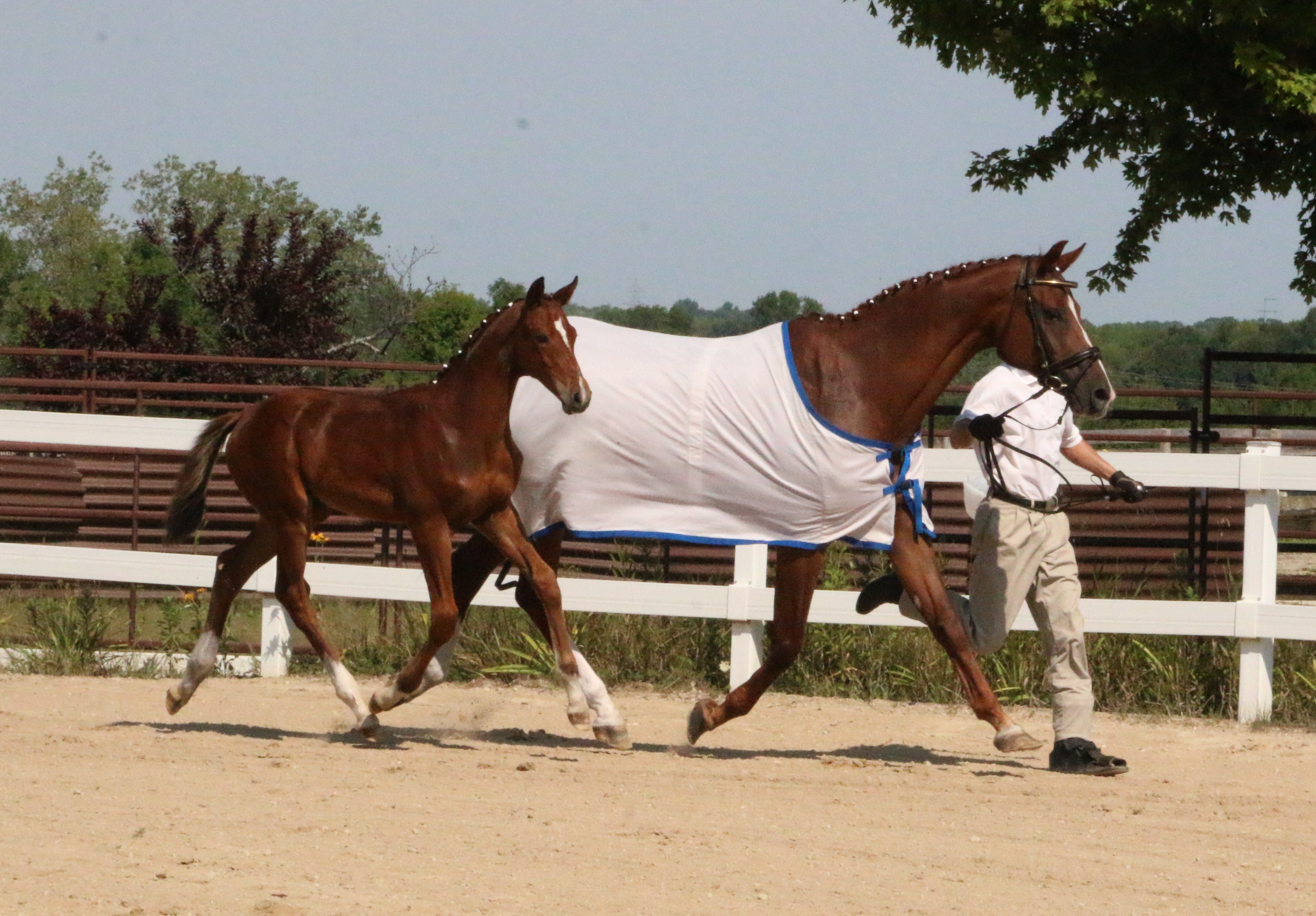 photo by Natalie Prentice
photo by Natalie Prentice
September 2016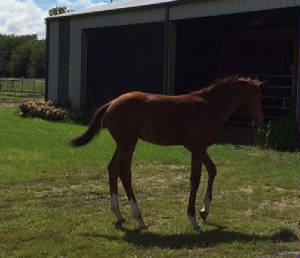 September 2016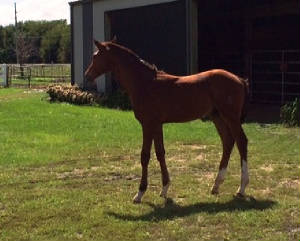 Flip For It
Flipper D'Elle x Rashanga Z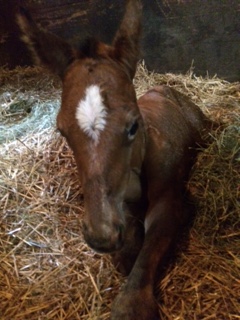 Born 9/1/2016, he is already 16.2+ and ready to start under saddle. He has a sweet personality and would be a great Grand Prix prospect with an international pedigree on top and bottom. He's destined for a major career with a talented rider. Purchase him before he is broke or buy him for twice the price next year. We will even do a payment plan that guarantees he will move up the levels, and if not, you do not have to pay the balance. This is a once-in-a-lifetime horse. He can be a dream horse for someone. If not, he'll be one of our best stallion prospects.
Sire: Flipper D'Elle is a Selle Francais stallion who, for most of his career was a permanent member of the French showjumping team, and he participated in the 2006 Athens Olympics. His pedigree includes the great Ibrahim both top and bottom: sire of Almé and one of the most influential foundation sires. Flipper D'Elle has produced more than 80 CSI winners. He passes on his great athleticism, scope, and style over fences, as well as his courage and smart mind.
Dam: Rashanga Z was a Class I filly for SWANA . She is curious, bold, and has inherited her sire's incredible canter. Her sire Rashka won his stallion test with the highest score in US testing history, the highest dressage index in US testing history, and the highest jumping index of the stallions at his testing. He is a multiple USDF HOY winner, Regional winner, and DAD winner. Rashanga Z's dam, Rotanga Z, was also Class I for SWANA. She is by Contango and out of a Robin Z/Spartan mare. Her pedigree contains Grand Prix winners in both jumping and dressage for at least four generations. Robin Z is one of the best jumping sires in the world. His get have won medals in the European Championships, World Equestrian Games, and the Olympics. Robin Z was classed as the number-one stallion in the world in 1999, with 12 winning products in CSI, and he was one of the few stallions in the world to have two progeny in the showjumping finals at the Olympic Games in Sydney 2000. Robin Z's sire Ramiro was ranked as the #1 stallion in the world on the basis international winners from 1990-95, and his dam's sire, Almé is the #1sire of showjumping broodmares from 1990-96. Robin Z jumped Grand Prix at an international level with the Swedish team, and is also a winner in Grand Prix Dressage.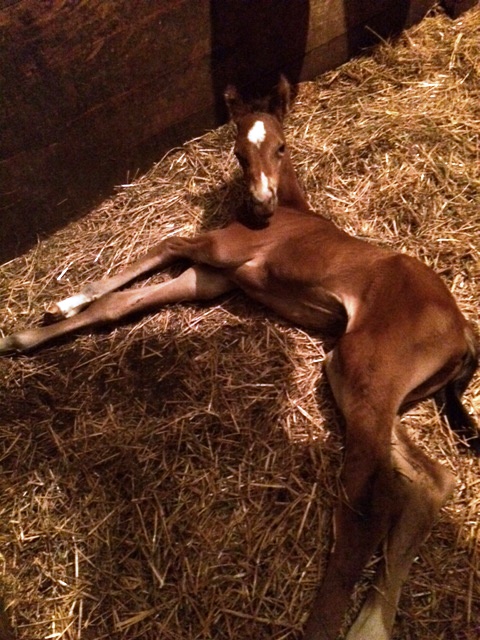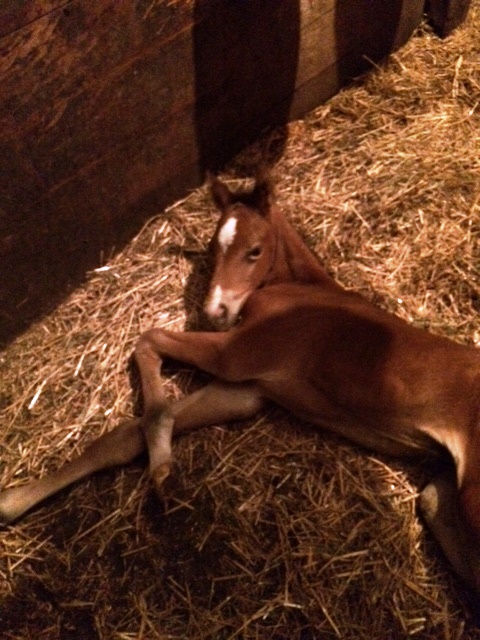 * * * * * *
Ubilee I x Rising Star
6 days old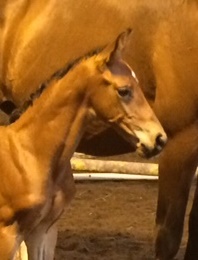 UR A Star was born at 11 PM on 9/4/16. A Premium ISR/Oldenburg gelding with Grand Prix and Olympic bloodlines. Currently 16.2 hands, he should mature to 16.3+. A refined, elegant mover, elastic, and most importantly a brain to die for. Suited for the amateur to reach the Grand Prix level. Buy him now before we break him because his price can easily double.
Sire: Ubilee I (Opus/Olympic Orpheus) is a NA/WPN Dutch registered stallion who was later gelded by his amateur owner. He has great movement, easy self-carriage, an uphill, lofty canter, huge walk, an elastic, rhythmic trot, and perfect hunter form and honesty over fences. Ubilee can do it all: dressage, hunter/jumper, and eventing. Besides winning the 2004 Stallion Short Test, Ubilee had the third highest overall score of all the stallions attending, 130.53; and he was the youngest three-year-old at the test. His dressage index of 138.97 is the fourth highest in all US stallion testing. His jumping index was 117, and he scored all 7s and 9s, except when his rider was lame on cross country.
Dam: Rising Star is by Raymeister (now GP Raymeister), who won with us at every show for three years, and then went on to be "the most winning horse in USDF history" with his new owner and his trainer Yvonne Barteau. Rising Star's dam, O'She's Gauguin, is by Opus and out of a Gauguin de Lully mare. She is a ¾ sibling to our stallion Rashka, who won his US stallion testing with the highest overall score ever, including the highest dressage index ever. Besides holding several of the highest Regional and National USDF Horse of the Year Championships ever, he currently continues to win at the FEI levels. Rising Star's other foal, Fresca, has won several USDF Regional Championships and was Reserve National Champion at Training Level Adult Amateur.
6 days old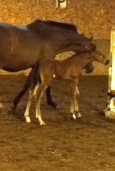 6 days old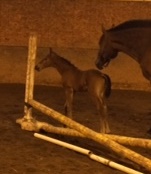 3 days old