Of the four foals in R Cor Ray's first foal crop (2009), three are AHHA Premium, and one is an AHHA Merit foal.
* * * * * *
R Corrito
(R Cor Ray x Rosalita/Rosario)
2012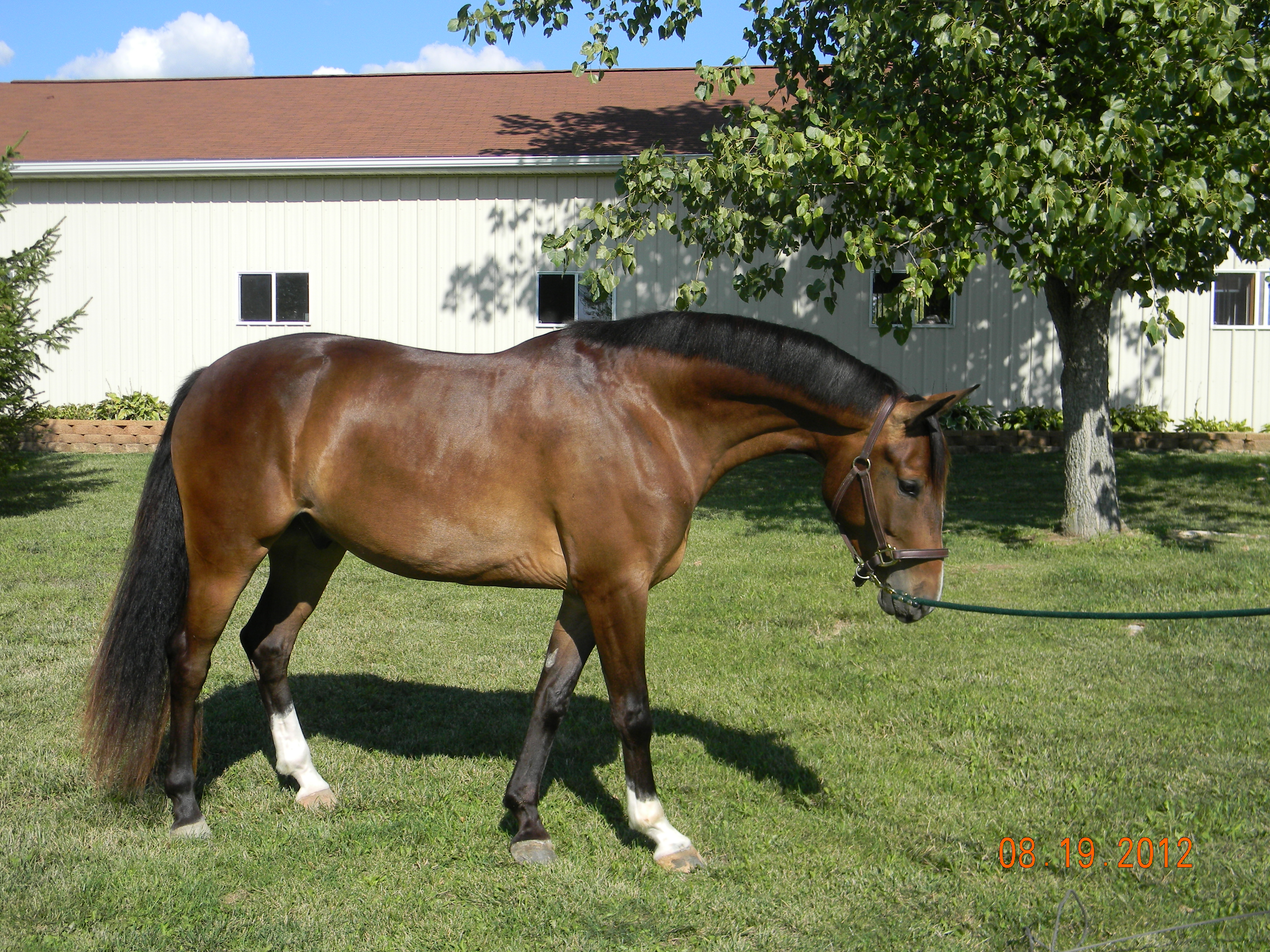 AHHA Merit foal (only 1 point from Premium). Very friendly, cute, dark bay colt born 4-2-09. He is very striking with his thin blaze and three white legs. Besides being extremely correct in type and legs, his movement is very elastic and floats effortlessly through the air.
In 2012, his current owner wrote, "R Corrito (aka Bentley) is now 3 1/2 years old and perfect in every way! He is now standing 16 hands. He is such a quick learner and loves to please. He is very personable too. My daughter ... thinks he is a big obnoxious puppy! He is a great horse...."
Dam:
Rosalita
is a premium ISR/Oldenburg mare, and is the only 2005 foal in the US by the incredible stallion Rosario. She has elastic gaits, is the prettiest, and has the best conformation of all our '05 foals. Her sire, Rosario is by Rubinstein I and was 2002 Oldenburg Regional Champion. At his Performance Test he achieved the highest dressage index. He stands out against the many popular Rubinstein sons because of his spectacular trot as well as his outstanding walk and canter. Rosalita's dam, O' She's Gauguin, is by Opus*, and is a premium ISR/Oldenburg mare out of generations of DAD winners. O' She's Gauguin's dam is by World Champion and Olympic Bronze medalist, Gauguin De Lully.
3 weeks old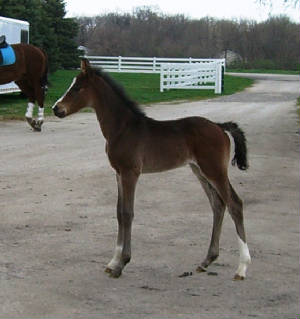 * * * * * *
Brava Cor Ray
(R Cor Ray x Paloma)
2 years old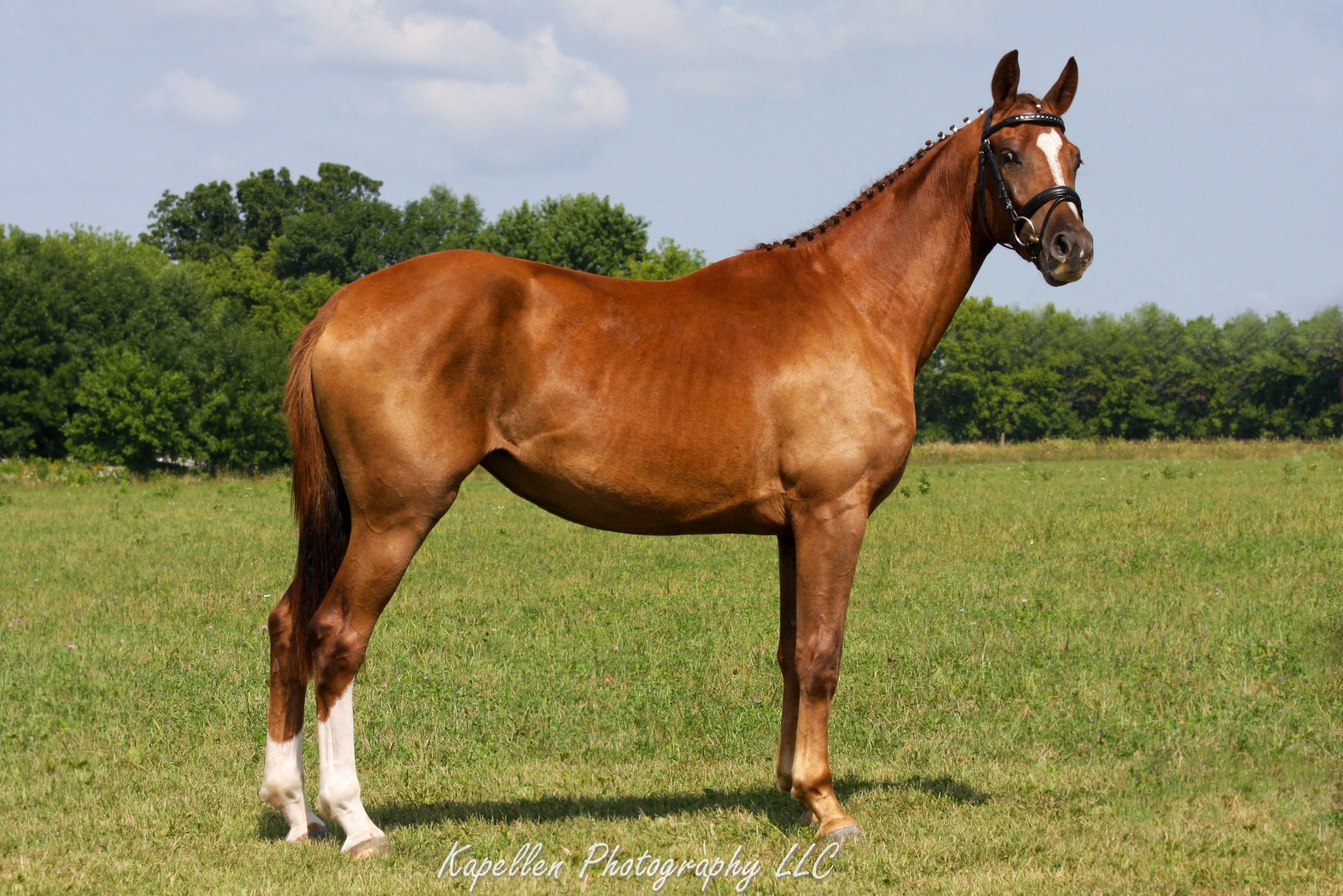 Kapellen Photography LLC
AHHA Premium filly with 8 for type and 8 for movment, and ISR/Oldenburg Premium Mare. She is a huge, beautiful, chestnut mare, born 4/18/09, with breathtaking movement. At her first show, Sorensen DSHB in June, she scored 82.1 to win the Fillies of '09 class, and was 3rd in the Filly Championship. At her second show, Waterloo DSHB, Sept 2, she won Fillies of '09 and Reserve Champion Filly.
Dam:
Paloma
is an International Grand Prix Jumper and imported Westphalian mare who has won over $118,000 in her career. She was Gold Medal Winner of the mareshow (mare approvals) in Germany at 3 yrs. old, and was shown as a Grand Prix Jumper all over Europe, where one of her most successful partnerships was with Meredith Michaels-Beerbaum. After coming to the USA in late 1999, her riders included Patty Stovel, Laura Kraut, and Vince Ansley. Paloma was one of the US wild card entries in the 2002 Nations Cup held in Donaueschinggen, Germany. After winning the mare show at 3, every event ever entered, every class ever ridden in, both in the USA and Europe, she never placed lower than 13th out of huge classes. She is still held in high regard and is used as a major selling point at the Westfälisches Pferdestammbuch e.V.ir Breed auctions. Her pedigree includes the wonderful jumper lines of her sire, Pit I by the legendary Pilot. Pit I is a premier sire of show jumpers including Paloma, Perina (Meredith Michaels), and Picadilly (Debbie Winkler). Paloma's dam is by Ramiroff, a Ramiro son.
8 weeks old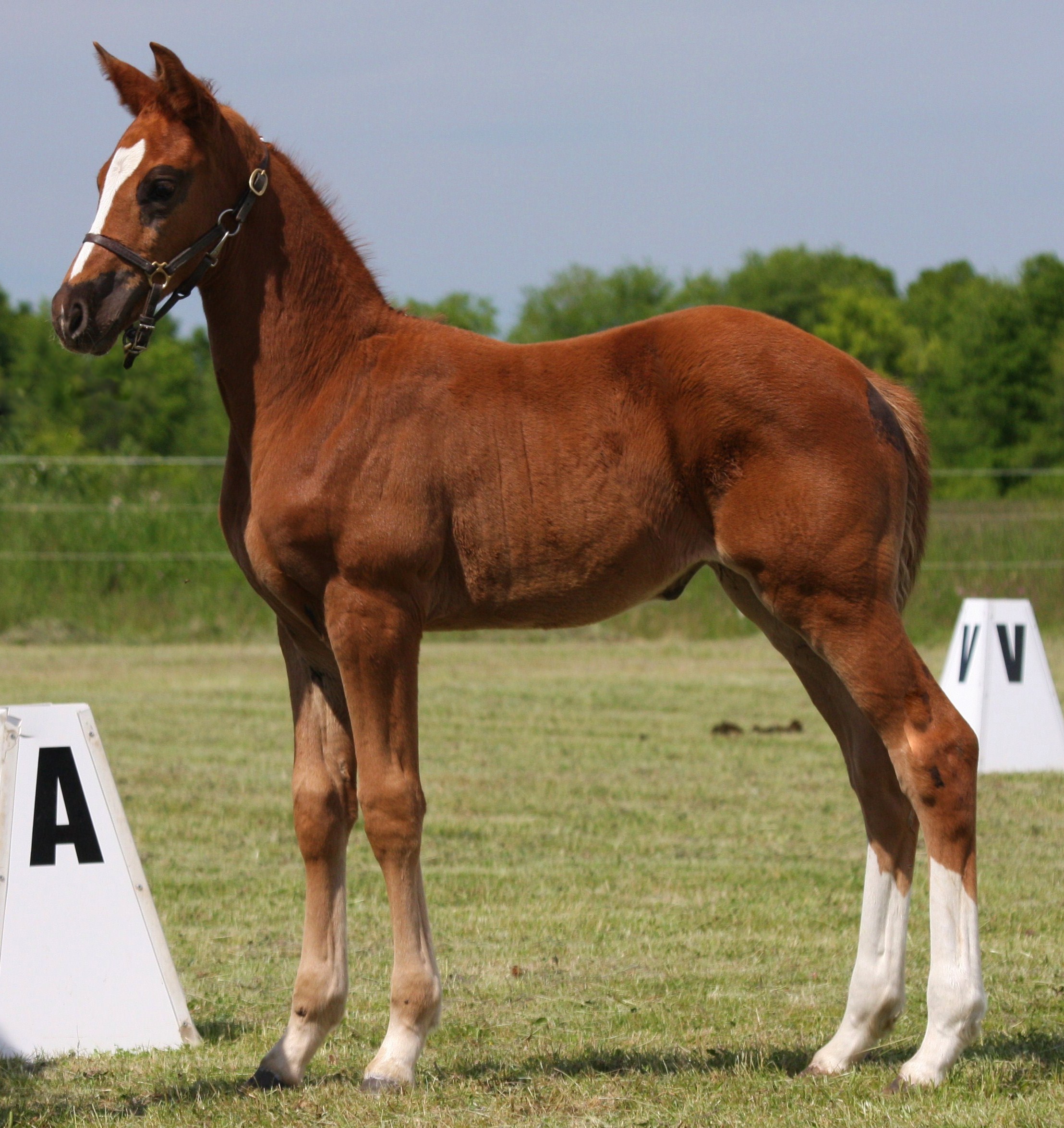 * * * * * *
Rock 'N' Roll
(R Cor Ray x O' She's Gauguin/Opus/Gauguin de Lully)
2009 USDF Weanling Colt Horse of the Year
2 years old
Kapellen Photography LLC
Premium AHHA foal with 7 for type and 9 for movement! Born 4/25/09, this very tall, bay colt has a big beautiful star and one right hind that is white. At his first show, Sorensen DSHB in June, he scored 82.9 and was Champion 3 YO Colts and Geldings.
Dam:
O' She's Gauguin
is 2008 USDF Mature Mare Horse of the year, and a premium ISR/Oldenburg mare out of generations of DAD winners. Her sire, Opus, was 2006 USDF #1 Dressage Breeding Sire (2nd in 2005 and 2004), # 1 NA/WPN Dressage Breeding Sire for both USDF and USEF since 2004, and # 1 Producer of ISR/Oldenburg Premium Mares and Horse of the Year winners since 2005. Her dam is by World Champion and Olympic Bronze medalist, Gauguin De Lully.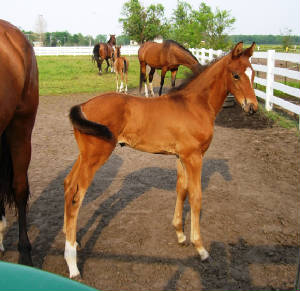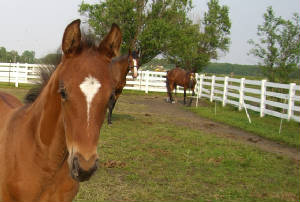 Gratia (formerly Bayria)
(R Cor Ray x Freesia)
Gratia - 2014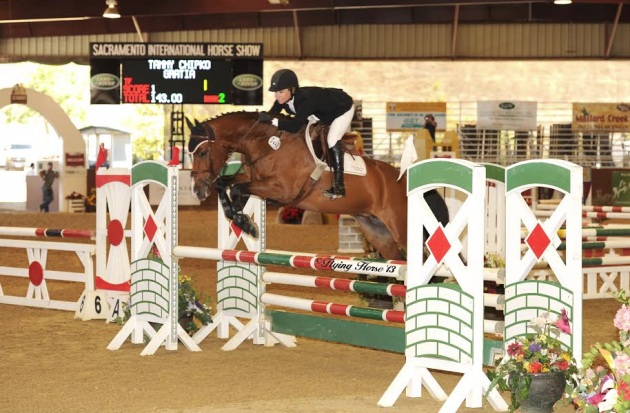 Premium AHHA filly with 8 for type and 7 for movement. Born 4/29/09, she is very pretty, feminine, with an elegant topline, and light airy movement. Sold in 2013, she has been shown in hunters and jumpers in California and is now named Gratia. "Grace" completed the 4 yr old finals. She is a darling small horse with a huge step and super brave.
Freesia's sire is a Franat (Holsteiner) son, and her dam, Capella, is a thoroughbred/clydesdale cross.
3 weeks old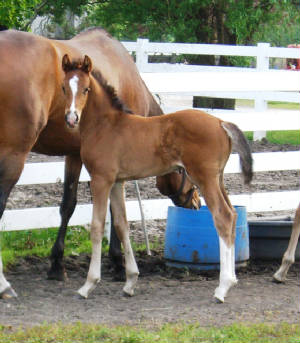 xxx
1 week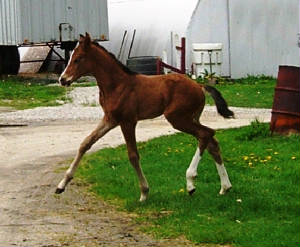 1 week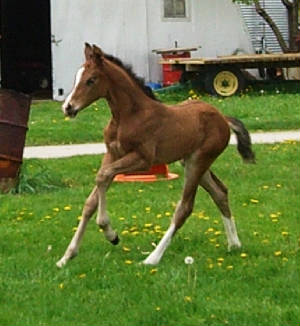 * * * * * * * *
R Corinne
(R Cor Ray x Contendra/Contendro)
1.5 years old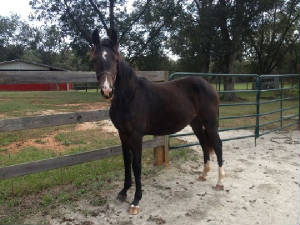 Born 6/22/11, a dark bay filly with two high white sox behind, a little white around the left fore, perfect legs and body type, and the cutest head with a star and a snip.
Dam:
Contendra
(2010 USDF DSHB Bred Mare Reserve HOY)
was an ISR/Oldenburg premium (8.4) filly by Contendro, a registered Holsteiner and winner of his 100 day stallion test. His sire, Contender, who also won his stallion performance test, is one of today's most outstanding Holstein Verband sires. Contendra's dam is by Opus and out of a dam by Privateer (Puritano out of a niece to Olympic Gold Medalist Rembrant).
3 weeks old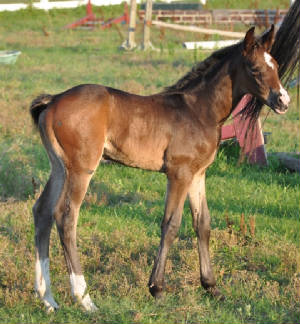 photo by Adam Lee
* * * * * *
Rayco
(R Cor Ray x Draco/Del Piero)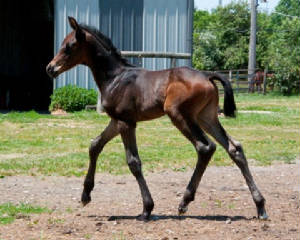 Rayco, born 6/10/12 is a Premium ISR/Oldenburg colt with perfect angles and incredible movement. He has a very solid build with a short back, an uphill, elastic, floaty trot, and a very cresty neck (like a mature stallion) that is very well set uphill for perfect balance.
Rayco is a licensed breeding stallion with ISR/Oldenburg NA.
Dam: Draco is an EMC (Elite Mare Candidate) Hanoverian mare and an ISR/Oldenburg premium mare. She has four generations of Grand Prix sires, grand sires, and great grand sires. Her grand dam, SPS Wakonda, produced the Oldenburg Farm approved Hanoverian stallion, Ragazzoni. Draco moves much like her Grand Prix sire, Del Piero, who recieved a 142.65 in ridability at his stallion testing, and a 9 and 9.5 when he won the title of Bundeschampion National Five Year Old Dressage Champion, and Reserve Champion ( to Sandro Hit) in the World Young Horse Six Year Old the following year in Arnheim. Draco's pedigree, which is hard to beat, is filled with a book of who's who in breeding: Del Piero (Donnerhall), Matcho x, Garibaldi II, crossed with A Jungle Prince (Argentinus), Pik Koenig, Werther, and Dagobert.
* * * * * * * *
Raytango Z
R Cor Ray x Rotanga Z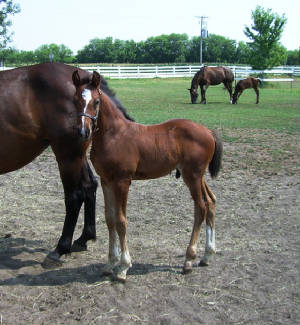 Undoubtedly the best pedigree, movement, and presence of this year's crop, this colt born 6/6/12 is ISR/Oldenburg premium, high score colt of his inspection, and definitely one of our next stallion prospects. Like his dam, he doesn't touch the ground. If canter and walk are the most important gaits for Grand Prix, he will be there quickly just based on talent. His trot is also world class, but that canter and walk are the best we have produced. He reminds me of uncle Rashka. He may be a little small, but the pedigree suggests he should be 16+ hands.
Dam:
Rotanga Z
is a Class 1 Swedish mare by Contango out of a Robin Z/Spartan mare. Her pedigree contains international Grand Prix winners in both dressage and jumping for at least four generations. Her sire Contango was Champion of his 100-Day Test in Medingen, Germany, in 1991. In 1997 he achieved 7 1st Place wins at Grand Prix. He earned 9s on temperament and trainability and won top honors in both jumping and dressage. Rotanga Z's dam is by Robin Z, one of the best jumping sires in the world. His get have won medals in the European Championships, World Equestrian Games, and the Olympics. Robin Z was classed as the number-one stallion in the world in 1999, with 12 winning products in CSI, and he was one of the few stallions in the world to have two progeny in the showjumping finals at the Olympic Games in Sydney 2000. Robin Z's sire Ramiro was ranked as the #1 stallion in the world on the basis international winners from 1990-95, and his dam's sire, Almé is the #1sire of showjumping broodmares from 1990-96. Robin Z jumped Grand Prix at an international level with the Swedish team, and is also a winner in Grand Prix Dressage